自転車専用道が大阪・御堂筋に メインストリートでも車道を潰す橋下市長の意気込みとは
大阪市は10月2日、市の中心部を縦断するメインストリート「御堂筋」に、自転車専用道路を作る構想を明らかにした。現在の6車線を4車線に減らし、閉鎖した側道に自転車専用道を設けるという。早ければ2016年度から使えるようになるという。産経ニュースが報じた。
対象は新橋~難波西口交差点の約1・2キロ。幅約5メートルの側道部分に自転車専用レーンを整備し、余ったスペースを歩道拡幅に使う。現在は側道が荷降ろしにも使われているため、側道と本線を隔てる植え込みを縮小し、本線の端に停車スペースを確保する。
 
市は昨年11月に同区間で側道への車の進入を規制し、自転車レーンや歩道として使う社会実験を実施。同区間を含む約3・5キロの本線を車が通過する時間は30秒~4分程度長くなったものの、歩行者や自転車利用者から好評だった。
 
(産経ニュース『橋下市長「パリのシャンゼリゼ」目指す-大阪・ミナミ、御堂筋に自転車専用レーンと歩行者スペースに』より 2014/10/03 00:40)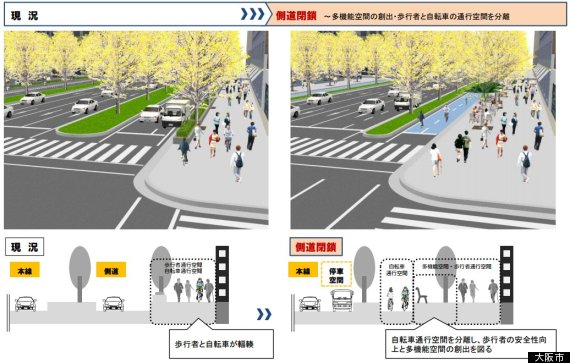 発表資料によると、御堂筋は約40年前に比べて自動車の交通量が4〜5割減少しているのに対し、自転車の交通量は6〜7倍に増加。歩行者と自転車が一緒に歩道を使っているため、歩行者が歩きにくい状況となっている。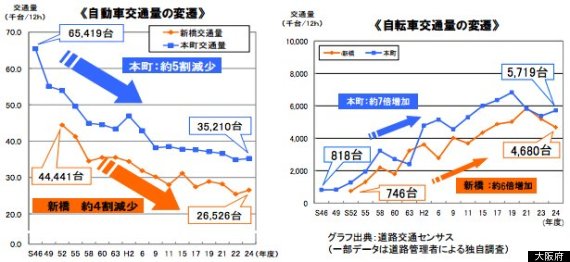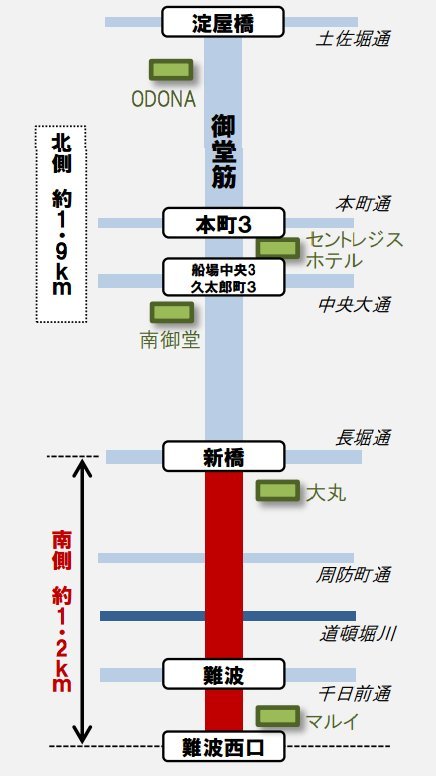 橋下市長はこの日の会見で、「車のための御堂筋から自転車・歩行者のための御堂筋に変える」「単に通過道路とするのではなく、楽しむことができる空間にしたい。遠ロの周辺も、銀行などではなく楽しめる店などの誘致をかけている」などと述べ、大阪のメインストリートをパリのシャンゼリゼ通りのように、歩行者らにとって快適な通りに変えたいとする考えを示した。
市は、この区間の北側(淀屋橋―新橋、約1.9キロ)についても10月9〜19日に社会実験を実施するとしており、将来的にはこの区間にも自転車専用道路を設ける検討をしている。
【関連記事】
Trois Juin Deux Milles Six Paris Velorution!

Here you can see the lines of trees which go down the Avenue des Champs Elysees, along with great architecture of the buildings behind it and various tourists and locals passing by. You may be interested in more; www.eutouring.com/images_avenue_des_champs_elysees.html

Almost completely deserted walkway down the Champs Elysee headed toward the Obelisk.
ハフィントンポスト日本版はFacebook ページでも情報発信しています。
ハフィントンポスト日本版はTwitterでも情報発信しています。@HuffPostJapan をフォロー