LGBTが働きやすい職場はここだ2016【アメリカ】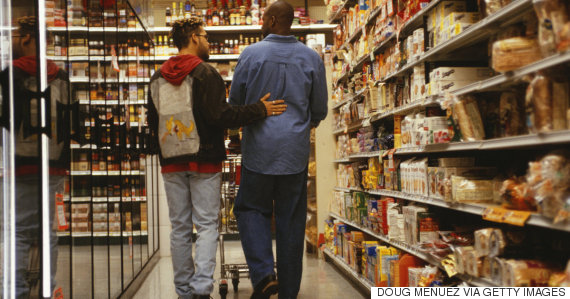 スターバックス、ホールマークそしてノードストロームの3社は、アメリカの非営利団体「ヒューマン・ライツ・キャンペーン」が毎年発表している企業平等指数において、最高評価を受けた。
企業平等指数は2002年にできたもの。以来、レスビアン、ゲイ、バイセクシャルそしてトランスジェンダー(LGBT)が、職場でどれくらい平等な扱いを受けるかをを知る手段として使われてきた。
2016年版では1024社が評価を受け、ドメスティック・パートナー(法的には認められていないが実質的な婚姻関係にあるカップル)手当、トランスジェンダーを含めたヘルスケア、そして LGBTコミュニティとの一般的な関わりが査定された。また、プレス・リリースによると、今年は調査基準が刷新され「性的志向と性のアイデンティティに基づく差別が禁止じられているか」が新たなガイドラインに加わった。
100点満点の評価を得た会社は、アップル、ゼロックス、ツイッター、ウーバー、エアビーアンドビーなどだ。これらの企業は今までも、職場でのLGBTの平等を推し進めることに関してリーダー的な存在として知られてきた。
反対に得点が低かったのは、薬局チェーンのライトエイド、家電量販店のラジオシャック、BJ'sホールセールなどで、得点はそれぞれ、65、40、25となった。
ヒューマン・ライツ・キャンペーンのウェブサイトに掲載されたブログには、この結果が「主要な企業が、事業全体にわたって平等を実現するために進む道のりの長さ」を表していると記されている。
ブログでは「高い平等性を達成している企業は讃えられるべきですが、残された課題はまだたくさんあります」と述べられている。「企業と協力して、公共政策と労働環境の改善を前進させていく必要があります」。
このレポートはこちらから確認できる。代表的なものを以下にセレクトした。
スターバックス

Spencer Platt via Getty Images

キャンベル・スープ・カンパニー

Kevin Schafer via Getty Images

エアビーアンドビー

ASSOCIATED PRESS

マクドナルド

Joe Raedle via Getty Images

アバクロンビー&フィッチ

Bloomberg via Getty Images

タイム・ワーナー

ASSOCIATED PRESS

ティファニー

Bloomberg via Getty Images

ウォルマート

Joe Raedle via Getty Images

バーガーキング

ASSOCIATED PRESS

コストコ・ホールセール

ASSOCIATED PRESS

トイザらス

Bloomberg via Getty Images

ライト・エイド

ASSOCIATED PRESS

BJ's ホールセール

ASSOCIATED PRESS
この記事はハフポストUS版に掲載されたものを翻訳しました。
What would the Maroon 5 frontman and "The Voice" judge do if he were president? Well, Adam Levine would legalize same-sex marriage for all LGBT Americans, including his brother, Michael who is openly gay. "I can single-handedly dispel any ideas that sexuality is acquired," he told Out magazine in 2011. "Trust me, you're born with it. My brother is gay, and we knew when he was two. We all knew."

In 2010, Neil Patrick Harris and his partner David Burtka welcomed their twins, Gideon and Harper via surrogacy.

In a 2009 interview with The Advocate, Chris Evans accidentally outed his brother, Scott Evans. The younger gay brother assured Chris that it was fine, and since, the Captain America star has been a vocal straight ally, speaking up for marriage equality last year.

When cult TV series "Firefly" star came out in an exclusive interview with Entertainment Weekly in 2011, Sean Maher for the first time, not only openly spoke about his sexuality, but shared his family's impact on his life. "I have these beautiful children and this extraordinary family," Maher, who's raising his kids with his partner, Paul, said to EW, "and to think in any way shape or form that that's wrong or that there's shame in that or that there's something to hide actually turns my stomach."

Actress Sara Gilbert, best known for her role on "Roseanne" has two children, Sawyer and Levi with her ex-partner Allison Adler. The actress is the creator and host of CBS' daytime show "The Talk", which is based around motherhood. When the press release surfaced about the debut of the show, many were upset that it didn't include the fact that Gilbert was a lesbian mom.

Cat Cora of "Iron Chef" and her partner Jennifer Cora have four boys together, Thatcher Julius, Nash Lemuel, Zoran and Caje. They were pregnant at the same time and implanted with each other's fertilized egg while carrying Thatcher and Nash. The same sperm donor was used for all four children. "We have agreed that if we ever wanted more children, we would only do it by giving back and adopting," says Cat.

Former Vice President Dick Cheney's daughter Mary Cheney and her longtime partner, Heather Poe, have two children, Samuel and Sarah Lynne. In 2010, the birth of their second child, Sarah Lynne wasn't received well by conservatives.

In 2008, "American Idol" star Clay Aiken and his best friend Jaymes Foster welcomed their son Parker by vitro fertilization. "He's an incredible caregiver. As far as changing the diapers and seeing what's wrong with [Parker] and getting him to go sleep, Clay's a natural and he's really, really good with that," says Foster.

Transgender man Thomas Beatie gave birth to three children, Susan, Austin and Jensen while married to wife Nancy. In 2008, Thomas and Nancy first appeared on "The Oprah Show" when he was seven months pregnant with their first child. Last November, Thomas appeared on Oprah's "Where Are They Now". The couple suffered marital issues and filed for divorce, but a judge is questioning even recognizing their marriage's validity due to Thomas giving birth. Despite, Maricopa County Family Court Judge Douglas Gerlach interfering, the couple separated and Thomas is now a single father.

Anne Hathaway would do anything for her gay brother, Michael, including leaving the Catholic church (along with the rest of her family) in which she grew up in, telling British GQ, "Why should I support an organization that has a limited view of my beloved brother?" The Hollywood starlet, who recently played Fantine in "Les Misérables," (she joked that her short haircut left her looking like her gay brother) has been a fervent support of the LGBT community, receiving the HRC's "Ally For Equality" award in 2008 (VIDEO).

Despite her very public divorce from Tammy Lynn Michaels last year, Melissa Etheridge and Michaels share twins, daughter Johnnie Rose and son Miller. The rockstar also has two other children, daughter Bailey and son Beckett, from a previous relationship.

"Glee" mastermind and creator Ryan Murphy ended 2012 and began 2013 by welcoming his first son, Logan Phineas Miller Murphy, with his husband, photographer David Miller. Murphy announced the new addition to his family via Twitter with a picture of the newborn, tweeting, "Thanks to everyone for the kind wishes. Logan is one week old and doing great. Happy new year!"

Cher, no stranger to the LGBT community, became a gay icon for her lesbian role in the 1983 movie "Silkwood." The singer, songwriter, actress and philantrhopist has two children, Elijah Blue Allman and Chaz Bono, who is transgender.

Bishop Gene Robinson, the first non-celibate openly-gay Anglican bishop has two children, Jaymee and Ella with his ex-wife Isabella "Boo" McDaniel. After coming out at 40-years-old and meeting his lifetime partner Mark Andrew, Robinson remained close to McDaniel and their two daughters.

When B.D. Wong isn't busy playing his famous role of Dr. George Huang on "Law & Order: Special Victims Unit", he's busy being a father to his son Jackson Foo along with his longtime partner Richie Jackson. Born 11 weeks premature via surrogate, Jackson Foo was born a twin with his brother Boaz Dov, who unfortunately died 90 minutes after birth. In 2003, Wong released a memoir chronicling the harrowing birth of his son.

Barbra Streisand has one son, Jason, who is gay, with ex-husband actor Elliott Gould. She also has two step-children with her second husband James Brolin. In an interview with Pride Source, when Barbra Streisand was asked how she felt about being labeled a "gay icon" and if her gay son Jason thinks of her as one, she responded, "He doesn't see me as an icon. He sees me as his mother who touches his hair too much. No -- I love being an icon to anybody. Equal rights, you know!"

LGBT activist Zach Wahls was born to lesbian moms via artificial insemination. During the 2012 presidential election he spoke at the Democratic National Convention on behalf of President Barack Obama for his support of same sex marriage.

Better known as "the other Tyra" -- Tyra Sanchez -- who won the second season of the widely popular hit show "RuPaul's Drag Race," is the only Drag Race contestant to have a biological child, openly speaking about his son, Jeremiah, while in the competition. A documentary called "Drag Dad" by Björn Flóki (VIDEO), chronicles the young father's life and relationship with his son and has yet to be released.

Designer and HGTV host Vern Yip and his partner have two children, Gavin Joshua Mannix and Vera Lillian Beatrix. Both children were born via surrogate.

Houston's first openly-gay mayor Annise Parker has three children, Daniela, Marquitta, and Jovon with her domestic partner of over two decades, Kathy Hubbard. Their two daughters are adopted and their son is a foster child.

Sally Field is a mother of three young men, one who is gay. "It's important to have a parent speak about raising a magnificent, proud, intelligent, funny, loveable, sexy gay son. There are so many parents who are frightened of that and who don't embrace their children and they struggle to embrace who they are and what nature intended them to be," says Field during her interview on "Oprah's Next Chapter".

Much like her provocative, yet endearing character on "Glee," Jane Lynch never imagined she'd be a mother. In 2010, when Lynch tied the knot with her wife, Lara Embry, a clinical psychologist, she also became the stepmother of two girls, Chase and Haden. "I'm almost 50, and I thought that possibility was behind me, so this is a real delight," Lynch told The New York Times about her becoming a parent.

The couple who started the prolific "It Gets Better" Project, Dan Savage and Terry Miller, have a son together named D.J. via adoption. In December 2012, the two got their marriage license in their home state of Washington, which passed same-sex marriage in the 2012 general election.

One of our favorite out comedians, Wanda Sykes, and her wife, Alex, welcomed twins, daughter Olivia Lou and son Lucas Claude (Alex is French), in May 2009. "What I have learned so far, is that the Octomom is out of her freaking mind," Sykes said in an interview with the Tampa Bay Times. "With two babies we are -- and there's two of us -- we are pulling our hair out. We're loving every minute of it. It is truly a blessing."

The Hollywood power couple, Warren Beatty and Annette Bening, have four children, of which their eldest, Stephen Ira Beatty is transgender. Stephen made a video for transgender blog site, "We Happy Trans," back in March of 2012.

In February 2012, Matt Bomer came out by acknowledging his family -- three sons and his partner, Simon Halls -- in a speech when he received the New Generation Arts and Activism Award for his work in the fight against HIV/AIDS. "I'd really especially like to thank my beautiful family: Simon, Kit, Walker, Henry," he continued. "Thank you for teaching me what unconditional love is. You will always be my proudest accomplishment."

Zachary Jackson Levon Furnish-John is the son of multi award-winning singer Sir Elton John and husband, David Furnish. Zachary, who was born on December 2010, is the couple's first child. In January, false reports of the two having a second child surfaced. Their PR rep told E! News that John and Furnish did not welcome another child. However, a week later they confirmed they did indeed welcome a second child, Elijah Joseph Daniel Furnish-John.

In January, Rosie O'Donnell welcomed her first child, Dakota, with second wife, Michelle Rounds, tweeting the news and sharing an Instagram shot of the three for the first time. Dakota makes this O'Donnell's fifth child. The comedian shares four other children -- Blake, Vivienne, Parker and Chelsea -- with ex-wife Kelli Carpenter.

We've always loved Ricky. So when he came out and opened up his life to the world in an exclusive April 2012 issue of the Spanish edition of Vanity Fair, we fell deeper in love with the Latino pop sensation. During the interview, Martin candidly spoke about his coming out moment, work and his family; introducing his sons, Matteo and Valentino, and his partner, Carlos.

Openly gay comic Alec Mapa and his husband, Jamison Hebert, became fathers when they adopted their son in 2010. Mapa, who often jokes about his biracial LGBT family is also the celebrity spokesman for RaiseAChild.US, an organization that encourages same-sex couples to foster or adopt children.

Bisexual Canadian actress and "True Blood" star Anna Paquin has fraternal twins born last September with her husband Steven Moyer. The co-stars also have two other children from Moyer's previous relationships.

"Sex and the City" star Cynthia Nixon, along with her wife, Christine Marinoni, have three children. Two, Charles and Samantha, are from Nixon's previous relationship with photographer Danny Mozes, and the other is Max Ellington, whom Marinoni gave birth to in February 2011.
【関連記事】
ハフィントンポスト日本版はTwitterでも情報発信しています。@HuffPostJapan をフォロー