レディ・ガガ、「出火吐暴威」のマントで登場。デヴィッド・ボウイを弔う【グラミー賞・動画】
人気歌手のレディー・ガガが2月16日、アメリカ・ロサンゼルスで行われた世界最高峰の音楽の祭典「第58回グラミー賞授賞式」で、故デヴィッド・ボウイを追悼するパフォーマンスを披露した。ボウイが使用した物と同じく「出火吐暴威」という漢字をあしらったマントを身につけて舞台に登場し、会場を沸かせた。オリジナルと同じく山本寛斎さんがデザインしたものだった。
LOS ANGELES, CA - FEBRUARY 15: Recording artist Lady Gaga performs onstage during The 58th GRAMMY Awards at Staples Center on February 15, 2016 in Los Angeles, California. (Photo by Kevin Winter/WireImage)

LOS ANGELES, CA - FEBRUARY 15: Recording artist Lady Gaga performs onstage during The 58th GRAMMY Awards at Staples Center on February 15, 2016 in Los Angeles, California. (Photo by Kevin Winter/WireImage)

LOS ANGELES, CA - FEBRUARY 15: Recording artist Lady Gaga performs onstage during The 58th GRAMMY Awards at Staples Center on February 15, 2016 in Los Angeles, California. (Photo by Kevin Winter/WireImage)

LOS ANGELES, CA - FEBRUARY 15: Lady Gaga performs onstage during The 58th GRAMMY Awards at Staples Center on February 15, 2016 in Los Angeles, California. (Photo by Kevin Mazur/WireImage)

LOS ANGELES, CA - FEBRUARY 15: Lady Gaga performs onstage during The 58th GRAMMY Awards at Staples Center on February 15, 2016 in Los Angeles, California. (Photo by Kevin Mazur/WireImage)

LOS ANGELES, CA - FEBRUARY 15: Singer/songwriter Lady Gaga attends The 58th GRAMMY Awards at Staples Center on February 15, 2016 in Los Angeles, California. (Photo by Mark Davis/WireImage)

Lady Gaga performs a tribute to David Bowie at the 58th annual Grammy Awards on Monday, Feb. 15, 2016, in Los Angeles. (Photo by Matt Sayles/Invision/AP)

LOS ANGELES, CA - FEBRUARY 15: Singer Lady Gaga performs a tribute to the late David Bowie onstage during The 58th GRAMMY Awards at Staples Center on February 15, 2016 in Los Angeles, California. (Photo by Kevork Djansezian/Getty Images for NARAS)

LOS ANGELES, CA - FEBRUARY 15: Lady Gaga performs onstage during The 58th GRAMMY Awards at Staples Center on February 15, 2016 in Los Angeles, California. (Photo by Kevin Mazur/WireImage)

Lady Gaga performs a tribute to David Bowie at the 58th annual Grammy Awards on Monday, Feb. 15, 2016, in Los Angeles. (Photo by Matt Sayles/Invision/AP)

Lady Gaga performs a tribute to David Bowie at the 58th annual Grammy Awards on Monday, Feb. 15, 2016, in Los Angeles. (Photo by Matt Sayles/Invision/AP)

LOS ANGELES, CA - FEBRUARY 15: Singer Lady Gaga performs a tribute to the late David Bowie onstage during The 58th GRAMMY Awards at Staples Center on February 15, 2016 in Los Angeles, California. (Photo by Larry Busacca/Getty Images for NARAS)

LOS ANGELES, CA - FEBRUARY 15: Singer Lady Gaga performs a tribute to the late David Bowie onstage during The 58th GRAMMY Awards at Staples Center on February 15, 2016 in Los Angeles, California. (Photo by Jeff Kravitz/FilmMagic)

LOS ANGELES, CA - FEBRUARY 15: Singer Lady Gaga performs a tribute to the late David Bowie onstage during The 58th GRAMMY Awards at Staples Center on February 15, 2016 in Los Angeles, California. (Photo by Larry Busacca/Getty Images for NARAS)

Lady Gaga performs a tribute to David Bowie at the 58th annual Grammy Awards on Monday, Feb. 15, 2016, in Los Angeles. (Photo by Matt Sayles/Invision/AP)

Nile Rodgers, left, and Lady Gaga perform a tribute to David Bowie at the 58th annual Grammy Awards on Monday, Feb. 15, 2016, in Los Angeles. (Photo by Matt Sayles/Invision/AP)

Nile Rodgers, left, and Lady Gaga perform a tribute to David Bowie at the 58th annual Grammy Awards on Monday, Feb. 15, 2016, in Los Angeles. (Photo by Matt Sayles/Invision/AP)

Lady Gaga performs a tribute to David Bowie at the 58th annual Grammy Awards on Monday, Feb. 15, 2016, in Los Angeles. (Photo by Matt Sayles/Invision/AP)

LOS ANGELES, CA - FEBRUARY 15: Singer Lady Gaga performs a tribute to the late David Bowie onstage during The 58th GRAMMY Awards at Staples Center on February 15, 2016 in Los Angeles, California. (Photo by Larry Busacca/Getty Images for NARAS)

LOS ANGELES, CA - FEBRUARY 15: Singer Lady Gaga performs a tribute to the late David Bowie onstage during The 58th GRAMMY Awards at Staples Center on February 15, 2016 in Los Angeles, California. (Photo by Jeff Kravitz/FilmMagic)

LOS ANGELES, CA - FEBRUARY 15: Singer Lady Gaga performs a tribute to the late David Bowie onstage during The 58th GRAMMY Awards at Staples Center on February 15, 2016 in Los Angeles, California. (Photo by Larry Busacca/Getty Images for NARAS)
このマントのオリジナルは1973年に、山本さんが製作。「アラジン・セイン」ツアーで使われた。テレグラフ紙によると、ボウイは1971年、山本さんのショーを見てステージ衣装の制作を依頼。ボウイは歌舞伎に親しんでおり、早変わりに利用できるマントも、ステージでよく身に着けていた。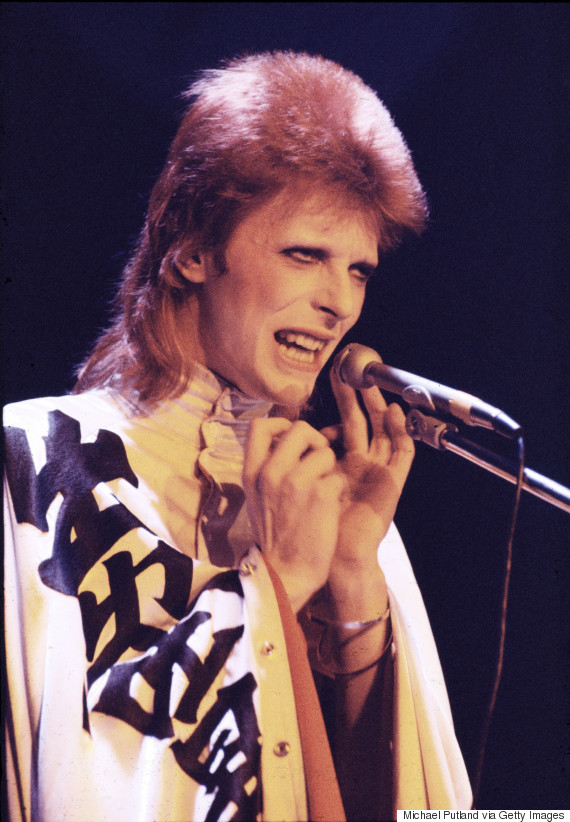 David Bowie (1947 - 2016) performs on stage on his Ziggy Stardust/Aladdin Sane tour in London, 1973. (Photo by Michael Putland/Getty Images)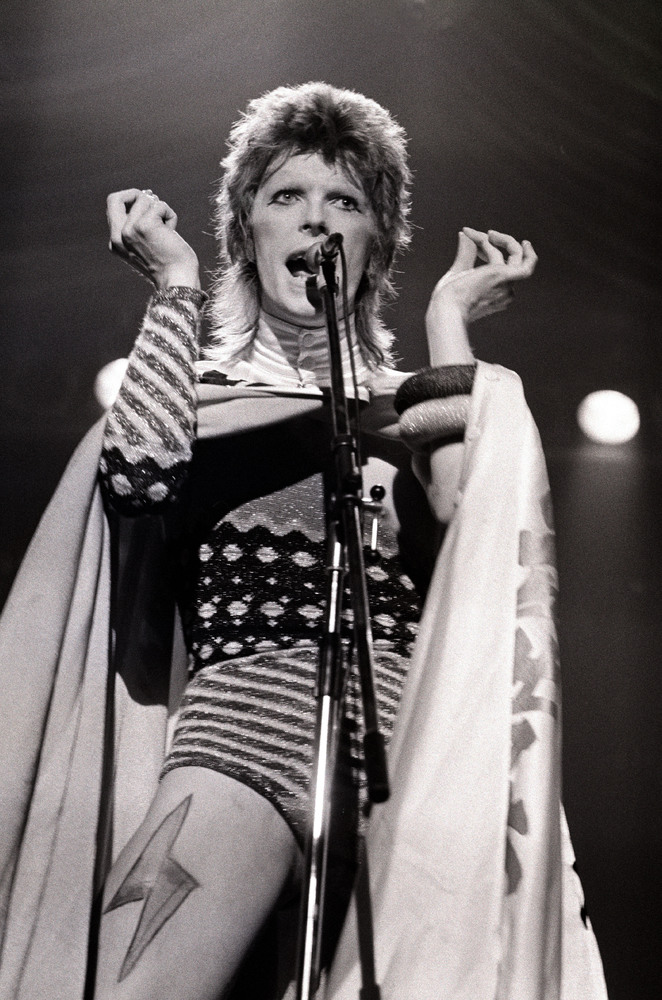 ライブ、「ジギー・スターダスト」、1973年(© jim forrest / Alamy)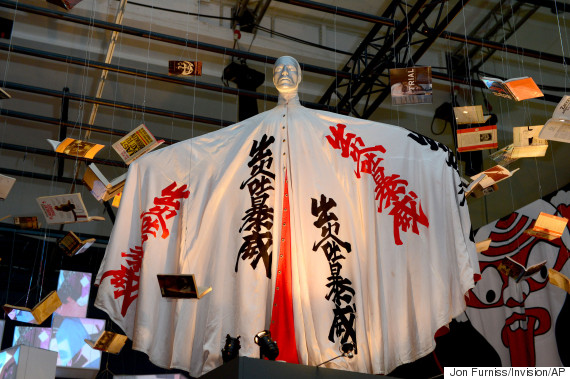 Costumes seen at the VIP reception for the 'David Bowie Is' exhibition at the V&A Museum in London on Wednesday, March 20, 2013. (Photo by Jon Furniss/Invision)
このマントを身に着けたボウイのステージは、下記の動画で確認できる。

▼クリックするとスライドショーが開きます▼
Bowie's hair was always iconic, even when was still known Davy Jones, as proven by this shot of hairdresser Sylvia Halliiday placing a hairnet on his head at the BBC Television Centre before his group The Manish Boys Performed on the programme 'gadzooks'. Bowie first appeared on TV in 1964, when he was aged just 17 and was invited onto BBC2's 'Tonight' show as part of 'The Society For The Prevention Of Cruelty To Men With Long Hair'.

An early photo call in 1967 saw Bowie developing his androgynous style in a cropped embroidered jacket.

A softer side of Bowie's image was captured in this makeup free shoot at his home in Foxgrove Road, Beckenham, in 1969.

Bowie's bouffant drew some admiring looks at the London Palladium on 30 November 1969.

Bowie began the transition from 60s hippy to 70s glam when he donned a pair of spray-on glittery leggings at a 'David Bowie and the Hype' gig at the Roundhouse, London, on 11 March 1970.

A portrait shot on 8 June 1972 to promote his third album 'The Man Who Sold The World', during the Ziggy Stardust and the Spiders From Mars Tour. Bowie has spoken openly about how his alter egos helped him to overcome crippling shyness. "Offstage I'm a robot. Onstage I achieve emotion. It's probably why I prefer dressing up as Ziggy to being David," he once said.

Bowie's getup on the cover of his 1971 album 'The Man Who Sold The World' raised a few eyebrows. The silk maxi dress was designed by Michael Fish, who specialised in 'man dresses' and ran a boutique in Marylebone.

David Bowie at Empire Pool Lenort in 1972 in a brightly-coloured quilted ensemble and red lace-up boxer boots. The shock of red hair was styled by Suzy Fussey of Evelyn Paget ladies' hair salon on Beckenham High Street. The colour was inspired by a picture of Marie Helvin.

Ziggy Stardust may be one of Bowie's most iconic personas, but he wasn't with us for long. Appearing first in the Brian Aris photoshoot for the cover of album 'The Rise and Fall of Ziggy Stardust' in 1972 - the fall came just 18-months after the rise, at Bowie's dramatic Hammersmith Odeon "retirement" gig in July 1973.

"I can take on guises of different people I meet," he said in 1973. "I can take on their accents - Im a collector."

Bowie took to the stage at the Hammersmith Odeon 1973 gig in beautiful creations designed by Kansai Yamamoto.

There is some dispute over why Bowie made the decision to shave off his eyebrows during this period. Some say designer Kansai Yamamoto advised him to do so, but according to other reports he drunkenly shaved them off when Seventies glam-rock band Mott The Hoople rejected the song 'Drive In Saturday' that he had written for them - named Drive In Saturday.

David Bowie in concert at Hammersmith Odeon, London, in 1973. This catsuit was designed by Yamamoto and was later worn by Kate Moss when she went to pick up Bowie's Brit award in 2014 and for a 2003 Vogue cover shoot.

The Aladdin Sane cover look that launched a thousand makeup tutorials. In 1973, Celia Philo directed the shoot for David Bowie's album Aladdin Sane. "You have to realise that, in 1973, men weren't walking down the King's Road with brightly coloured hair and wearing make-up," said Philo. "London was on the cusp of all that, with glam and then punk fashions about to explode. "But with Bowie it was always theatrical, not fashionable – it was all about adopting different personas, an act during which he became someone else." The makeup was masterminded by makeup artist Pierre La Roche from The House of Arden, who continued to work closely with Bowie throughout 1973.

The dazzling blue eyeshadow and pink lip look from the 'Life On Mars' video released in 1973 was also the work of La Roche. On working with Bowie La Roche is often quoted as saying: "He has a perfect face for makeup you see. He has even features, high cheekbones and a very good mouth. "I have to be careful though because his skin is very fine and some of the base powders I use are very strong. They can make the face quite soft"

Bowie's most visually arresting persona was Aladdin Sane. Here Bowie poses in Kansai Yamamoto's wondrous monochrome PVC bodysuit - which he wore on tour to the delight of fans.

Bowie at Hilversum TV studios proving high heels can be masculine. The reason Bowie/Ziggy wore an eyepatch in 1974? He had a terrible case of conjunctivitis, but he wasn't going to let that stop him looking chic.

Bowie's transformation from Aladdin Sane into The Thin White Duke was a stark change. Gone was the shock of red hair and PVC outfits and in their place was a slick suited gentleman with grey eyeshadow up to his brows.

Bowie's locks returned to red for his appearance in 'The Man Who Fell To Earth,' in 1976

'The Man Who Fell to Earth' - Candy Clark and David Bowie in 1976.

Turn ups and tailoring, Bowie slayed in a low key look on Bing Crosby's Merrie Olde Xmas' in 1977.

Bowie's hair, brows and leggings fought to be the centre of attention in his role as the Goblin King in the 1986 film 'Labyrinth'.

David Bowie performing in concert - Los Angeles, CA, USA - 1987

Bowie brought back the heels - this time kitten - for his performance at the Brit Awards, in Earls Court, London in Feb 1996.

In the video for his last single 'Lazarus' Bowie takes on a darker, unsettling look.

At the end of the video, Bowie is dressed in a paint-striped outfit similar to one he wore during 'The Man Who Fell To Earth' period, before he steps back into a wardrobe.
【関連記事】
ハフィントンポスト日本版はTwitterでも情報発信しています。@HuffPostJapan をフォロー