キャビンアテンダントは、フライト中こんなところで寝ているらしい(画像)
飛行機に乗っているとき、あなたの一番の味方になってくれるのがキャビン・アテンダント(CA)たちだ。
彼らは通路を何度も行ったり来たりしているが(ヴァージン・アトランティック航空のCAたちは、1回のフライトで何と平均11キロメートルも歩いているそうだ)、彼らにはギャレー以外に、どこか休憩できる場所があるのだろうか。
結論から言えば、答えはイエスだ。少なくとも一部の飛行機には、彼らが眠るための場所が用意されていることがわかっている。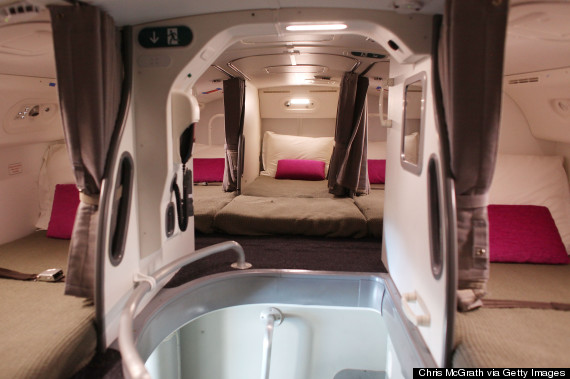 「ボーイング787 ドリームライナー」では、CAが潜り込んで眠ることのできる秘密の部屋が、最初から作られている。この寝床はかなり広くて快適なように見える。
ただし、われわれが実際に見られる機会はなさそうだ。ボーイング社は、このような乗務員休息室が存在していることを認め、その写真を送ってきてくれたが、いくつかの航空会社に確認しようとしたところ、このような特別なスペースがドリームライナーにあることを認めた会社はなかった(JALやシンガポール航空など、いくつかの航空会社のCA専用室の写真についてはこちら)。
パイロットたちにも、長時間のフライト中に、休んだりリラックスしたりできる場所が用意されている。彼ら向けの睡眠スペースも悪くはなさそうだ。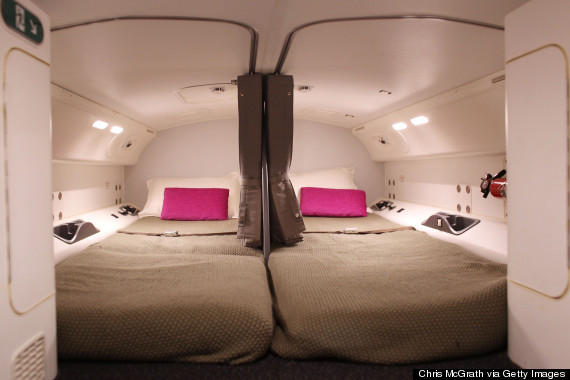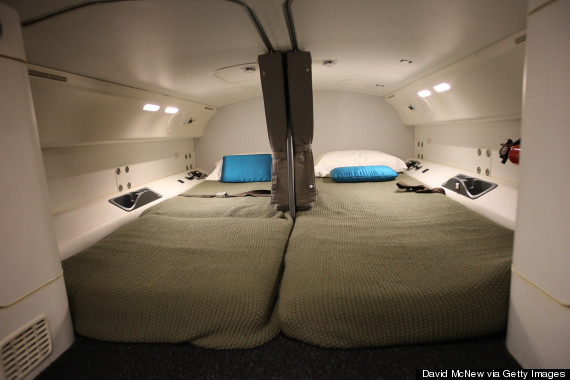 ボーイング社の広報によれば、ボーイング777の乗務員休憩室は下の画像のようになっており、ドリームライナーとは少し違っている。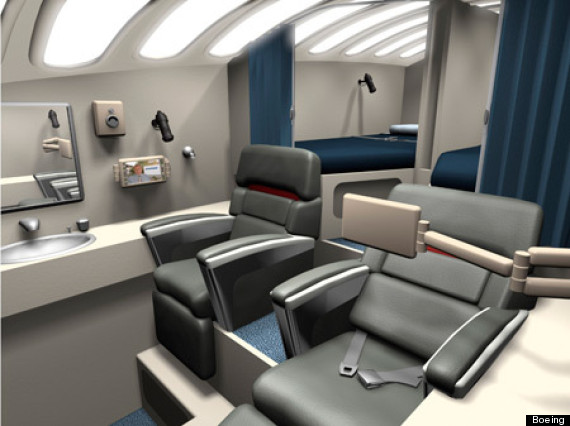 さて、疑問が解決したところで、今度はわれわれ乗客が、もっと広い座席スペースを設けるよう要求する番だ。自分のスペースを確保するため、前の座席の背もたれを倒せなくする機器「ニー・ディフェンダー」が最近話題になり、利用が禁じられたが、そもそもそういう必要が生じないようにしてもらいたいものだ。
[English) 日本語版:ガリレオ]
Views From The Window Seat
Atomische:Wisconsin http://www.atomische.com/series/WinterRecon

skovachsc:I fly over 50,000 per year so I see a lot of sunsets as I'm heading home to Seattle.

Whydah1717:Flying out of San Diego, north to San Jose. March 2011.

Whydah1717:Flying over the Mississippi River enroute to St. Louis. Coming from the east.

schlegeldiane:

schlegeldiane:

Jamie Siegel:Enormous ice cap crater near the arctic circle over North America.

pegni:Turquoise waters!

shaug65:Hitting Chicago

jbennecke:

atingram:Early morning departure from Portland, Ore. (PDX)

atingram:Flying around a thunder boomer!

atingram:Westward Bound Looking Down

atingram:Catalina Island in the Background

atingram:103-degree August Departure from ATL

therealCGB:Chicago by air

wendyc:the great sierra nevada

therealCGB:Marsh Mellow in the sky

knippd:The Andes from LAN Perú - Arequipa to Cusco

Robert Waters:From a San Diego to Newark flight, window seat. Somewhere in the American southwest.

bored99:I was in awe as I looked out the window and saw this--I couldn't believe that no one else seemed to be giving it a second glance

Phil Cassidy:Flight to the moon—I mean Belize!

bigdawg55:

bigdawg55:Big Island

Jaz Mac:County Down, and the community of Downpatrick

Jaz Mac:Open up your Golden Gate!

Stephanie Kuwasaki:On our way to Africa on a 7am flight out of Seattle, Mt. Rainier waved goodbye!

Sachem515:Shimmo and Coatue from the Copilot's seat of a Cessna 402 (600 ft)

Dave Wade-Stein:Flying into Salt Lake City

groovicool:This photo was taken June 11, 2011

groovicool:This photo was taken while flying into Arizona June 11, 2011.

melisabuigues:

Robert Melusky:Rare flight path way up North from London to New York

Robert Melusky:Somewhere in Micronesia taken from the Island Hopper

Robert Melusky:Truk Lagoon ( now Chuuk in Micronesia) was the loaction of one of the most fearsome battles in WWII, Operation Hailstorm.

groovicool:Geometry lesson while flying over Arizona...

Pat Mumford:Flying in to Portland, OR. Hello Mt. Hood.

joan d:out of seattle flying over mt rainier

IAMAFLATA:

Topher2882:Morning sunrise after breaking through the clouds above Denver.

Amber Tidwell:I took this on a flight from Fresno to Dallas

FrankiFenty:Studied abroad in China and took this pic

ArchieFrink:Catching the final glimpses of the beautiful Amazonian rainforest on August 1, 2011 after conducting research.

Wingit:

jah4jethro:Flying home to Los Angeles.

Thomson Tong Man Ho:flying with Qatar Airways landing at Doha Airport wonderful city landscape

Thomson Tong Man Ho:Flying with Air Berlin, from Copenhagen to Berlin The bridge is connecting the third largest city of Sweden, Malmo and the capital of Denmark, Copenhagen

MajaZwolsman:Our beautiful Queensland from above.

splitemz:Taken with an iPhone.

Malcolm Waddy II:

BFunk88:Flying over the Swiss Alps on the way from Paris to Rome

candiceK25:

Patricia Kantrowitz:The first of many flights to my second home, Haiti.

candiceK25:Flying into Palma de Mallorca, Spain

candiceK25:Heading home from the UK

Ryan Lorenc-Haluska:Ore ship passing directly under Skyway Bridge (rare shot)

lola85:View over Nice, France

Monicalups :flying from Kabul to Herat, amazing rugged terrain for miles and miles

Robert Kalin:Sunnylands, the Annenberg Estate, Rancho Mirage

reynoljh:Volcán Llaima, the morning after an eruption that covered the summit glaciers with ash.

Mark Kroto:Decent into Charlotte, neat shot of the propeller.

Mark Kroto:The part of a window seat going into LGA is this...

Gregg Caruso:Mt Rainer

Gregg Caruso:Golden Gate Bridge

Eric Smith 1:

CL Smith:Several hundred miles from Oahu. Infrared.

TFDNYC:

Older Mom:

kjbeau:

atomic:

dwilkinsboise:Departing PAP May 2010.

jaclyn2311:

dwilkinsboise:Cite Soleil neighborhood under the flight path coming in from the bayside at PAP.

jaclyn2311:

J Manny Santiago:

NaturalBeauTTy:

hokiephile:The Las Vegas Strip.

nadvonrut:Flying to beautiful Antigua which has 365 beaches - one for each day.

Jim Taglauer:A perfect view of an imperfect city!

pstrawhat:

Abdulaziz Alarifi:

pstrawhat:

Mandamae:Taken near the Rocky Mountains over Colorado in late May.

leahmessina:Southwest New Mexico - just west of Las Cruces.

DMGBEL:

DMGBEL:I actually had to lean over another passenger to get this shot, but it was so worth the apology I had to give.

esalterman:Rio from the south, out over the Atlantic Ocean. Great view of Ipanema, Copacabana, Sugar Loaf, and the whole Guanabara Bay including some of the mountains further north.

Hardyman1966:Reluctantly returning to San Diego, California after 3 weeks in Athens, Mykonos and Santorini. Need sleep. A LOT of sleep. :)

Hong Huynh:Aerial view of glaciers en route from Anchorage, AK to Los Angeles, CA.

Gravitastic:

Marty Yawnick:It was leg 1 of a pretty long 4 leg trip. Flying from DFW to SFO was a pretty bumpy ride that day. As we were nearing SFO above the clouds towards the end of the day, the sun cast a perfect warm glow over the wing, engine and sky. This was the perfect moment where everything just seemed to burst into light. Shot and processed on an iPhone 4S.

neilt3d:

Traylyne:Maui Mahalo

prfaulkner:

KellyBermuda:

Hammond Egger:

Stacy Anderson:We were departing our gate to taxi and take off and outside the window I spotted some very lonely looking luggage sitting all alone on the tarmac.

dinaotearoa:

dinaotearoa:

nictravels12:

nictravels12:

Kara Hammer:

Kara Hammer:

Kara Hammer:

pbrittiam3:Heinz Field on descent to Pittsburgh Int.

Informed Observer:Waiting in line on the tarmac.

Informed Observer:

Informed Observer:

Informed Observer:

Informed Observer:

Informed Observer:

Estrogenx:

Estrogenx:

melanth:I was working the flight from Charlotte to NYC

JacMMXII:

MOONSHADOWDEBBIE:Waves high and it is very windy here in Pensacola Beach but we are lucky this storm passed us by!

lp0920:

siroadrnr:

siroadrnr:

Percy Ahene:

kimmyyyy1223:Flying to Cusco, Peru, which is at an elevation of 11,200 ft.

Kristin Depew:

RockLauren:Beautiful skies approaching Dallas

Debbie-Leigh Crofutt:Took this right after we took off. Roatan island, Honduras 07/12/2012

vexed weasel:A view of the Deepwater Horizon cleanup in the Gulf Of Mexico- June 2010

vexed weasel:The Beach Islands of Pinellas County FL- 2010

Walter Smith:Early evening flight from SJC to LAX.

erikjwithak:Taken from an American Airlines flight to DFW where we were diverted to Shreveport due to weather.

drmalibu:LAX - LIH

drmalibu:

sfogiants 02:

Chubbsy Wubbsy:Snuck this shot in off my phone. It WAS in Airplane Mode...

Chubbsy Wubbsy:Somewhere over the Midwest en route to Connecticut a few winters ago.

daughterofpurple:view over north america

Patrick Carnahan:Southwest flight from Denver to Portland.

Michael Shusterman:Flying over the poppy fields somewhere in Afghanistan. The light green are the poppies.

nowhr man:Across American landscape and beyond...

nowhr man:Across American landscape and beyond...

nowhr man:Across American landscape and beyond...

luckystar41091:Flying from Korea to the States!

animri:

Tadpolefarm:Bioko Island, Equatorial Guinea

Tadpolefarm:Over Equatorial Guinea, En route Malabo to Bata.

coccinelle:landing in LaGuardia in the 90s.

coccinelle:landing in LaGuardia in the 90s.

MacAlec:August 2, 2010, over Virginia

nchudeau:

ltharvey45:

monktonmom:Visited this just 2 years prior; was a great surprise to fly right over it on my next trip out West.

SAMY B:ABOUT TO LAND IN PANAMA 6:30 PM

Joe Athialy:

Joe Athialy:Wings, on an early Indian morning.

bargeboards:The sun rises somewhere over Germany on our way to Amsterdam.

bargeboards:Mouny Rainier in the background on the approach to SeaTac airport. This was the only clear view that we had during our visit!

bargeboards:The Cabrillo Bridge and El Prado are visible on our descent over Balboa Park.

TacomaNancy:Flying out of Newark to Croatia, caught a beautiful glimpse of the beautiful Cape.

Christopher S Knell:Up in the Sky... Departing Burbank at Sunrise

gwiygul:New York Skyline Taking Off From Newark

brcarthey:In the foreground is a time-share resort built on the ruins of Fort Amsterdam. In the distance are cruise ships docked for the day. The capital, Philipsburg is to the left and Point Blanche is beyond the cruise ships.

Druuna:Flying out of Bogotá on a cloudy day in August. View of the Parque Simón Bolivar.

brcarthey:Cruise ships docked for the day in Sint Maarten.

PaulMarcus:rock islands of Palau....

brcarthey:Flying in a southernly direction, one can see one of the largest inland bays in the Caribbean. The control of Simpson Bay is shared between the island government (former Dutch colony) of Sint Maarten (to the right/south) and the French colonial government of Saint Martin (to the left/north).

raulcjr:

Don Fitch:Crossing the Amazon River on the way to Rio de Janeiro

snagis:Somewhere over the Andes...

waarki:Oxbows on the Mamberamo river seen on flight to Jayapura

waarki:Transmigration settlement and oil palm plantations in Arso, Irian Jaya

cesquared:

lizanuge:Flying from Madrid to Marrakech - the Straights of Gibraltar.

ecantari:Mount Hood enroute from Portland, OR, to Denver, CO in the afternoon.

knowledgeinsight:Great Pacific at 37k

knowledgeinsight:Scotland over Yosemite

macprohawaii:Hawaiian Airlines Boeing 717 flight over East Honolulu.

Farm2table:Cathay Pacific sixteen hour long haul from JFK to Hong Kong.

third culture kid:Heading northeast on the way home from Cancun.

pamiejuneslp:Waiting to taxi at Logan Airport, Boston, MA

st8pipes:Leaving Aruba

sabinamcp:

SexualPsychic:Rockies

Laurie MK:Taken from our 6:30 a.m. flight from Abbotsford, BC

Laurie MK:Lights of Winnipeg, MB

LongDogMom:Flying home from the Riviera Maya in Mexico

Jugioh:

Jen0141:I took this photo as I was leaving the most relaxing, wonderful vacation of my life. I was there for 9 days, and in that time Hurricane Sandy developed and passed through the northeast US, where I was returning. My flight was cancelled 3 times trying to get back.

arch blang:Sunrise over Yorke Peninsula, September, 2012

arch blang:Wilpena Pound: looking towards Lake Torrens Aug, 2007

jelias:

Delphine Mary G:

Delphine Mary G:

Delphine Mary G:

Delphine Mary G:

Delphine Mary G:

rwc24908:Mt. St. Helens from 9800 feet on 8/17/2011. Passenger in a Vans RV-9a.

pjollymore:

rickroessel:Finland by FinAir

cynsha:

cynsha:

cynsha:

Claire Hawley:Islands near Phuket in the Andaman Sea

Janet Logan:A very short local helicopter flight to the lovely Scilly Isles, starting with Tresco.

Michael Spenard:

Valerielynne22:

Keith Dana Robertson:

cmosquito:These colors are no exaggeration and the pic hasn't been altered or enhanced in any way. Absolutely stunning!

yindoll:Casually gazing out the window at the expanse of sky and clouds, I was not expecting to see ... traffic! Right there at eye level was a passing jet!
【関連記事】