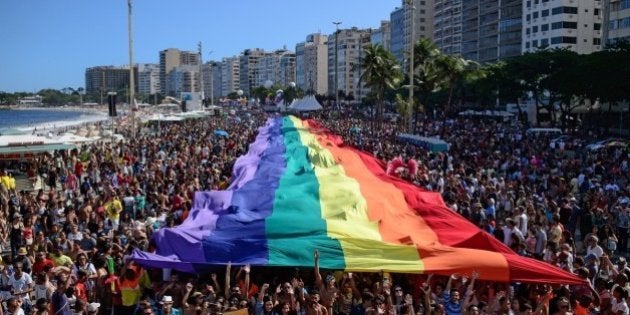 世界中に、性的マイノリティ(LGBT)のコミュニティができて、気づけば何年も経った。
2014年以降、アメリカでもLGBTをめぐる社会は大きく変わった。連邦最高裁でアメリカ全州で同性婚を認めるかの審理が行われており、テレビに性的マイノリティが登場し、トランスジェンダーの人たちもよく見かけるようになった。
世界を見渡しても、多くの性的マイノリティたちが、自分らしく生きる権利を守るために闘っている。6月に行われるニューヨークのレインボー・プライドを前に、各国のパレードを見てみよう。そこには、レインボー・フラッグを掲げるたくさんの仲間たちがいる。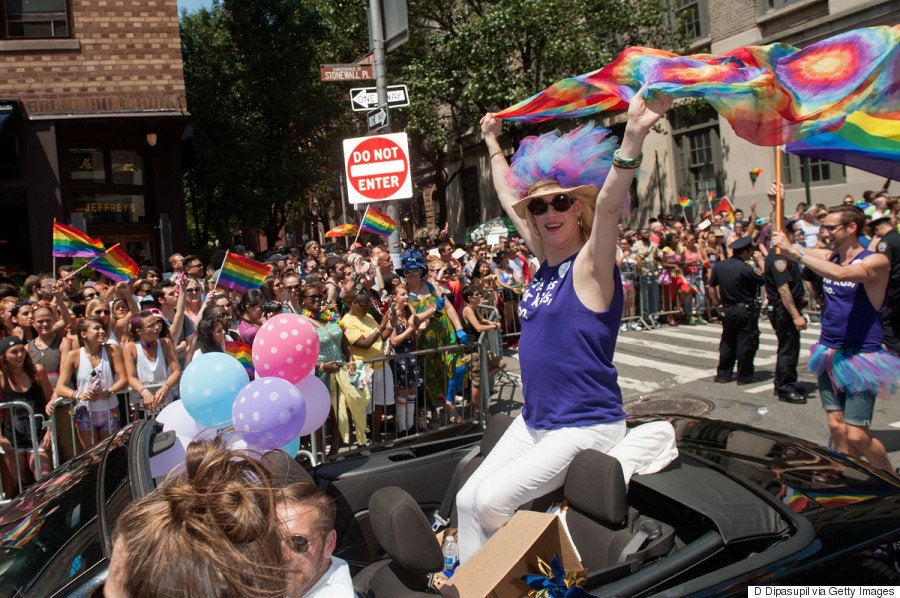 NEW YORK, NY - JUNE 29: A general view of atmosphere during the 2014 New York City Pride March on June 29, 2014 in New York City.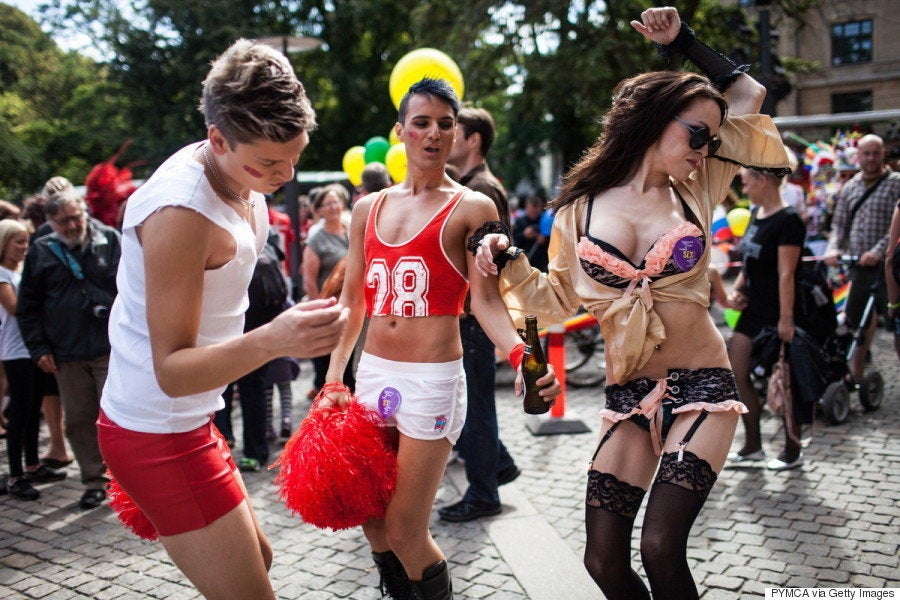 A group of gay parade participants and party people are having a great time dancing around at Copenhagen Gay Pride Parade. Denmark 2013.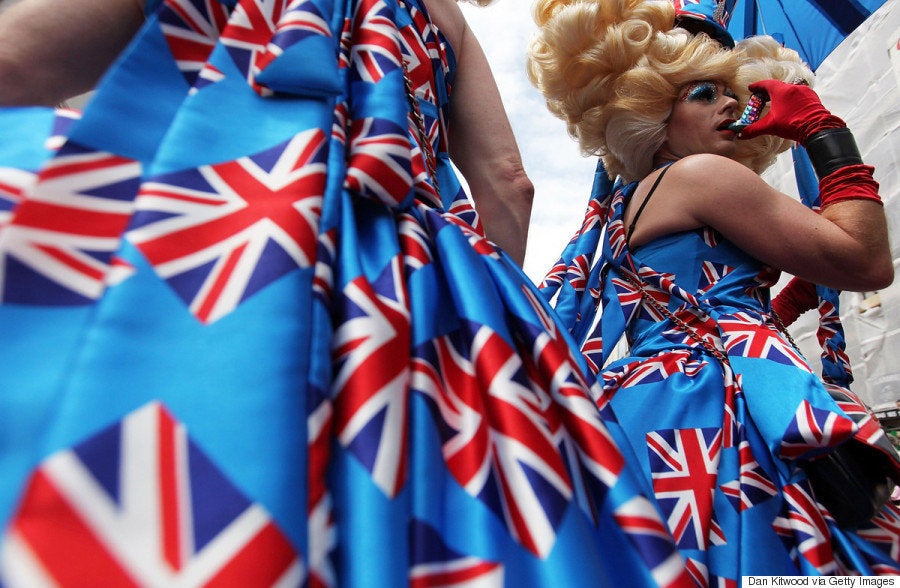 LONDON, ENGLAND - JULY 04: People take part in the annual Gay Pride street march through central London on July 4, 2009 in London, England. This years parade theme is entitled 'Come Out and Play' and consists of celebrities, floats, and performers celebrating the UK's largest gay and lesbian festival.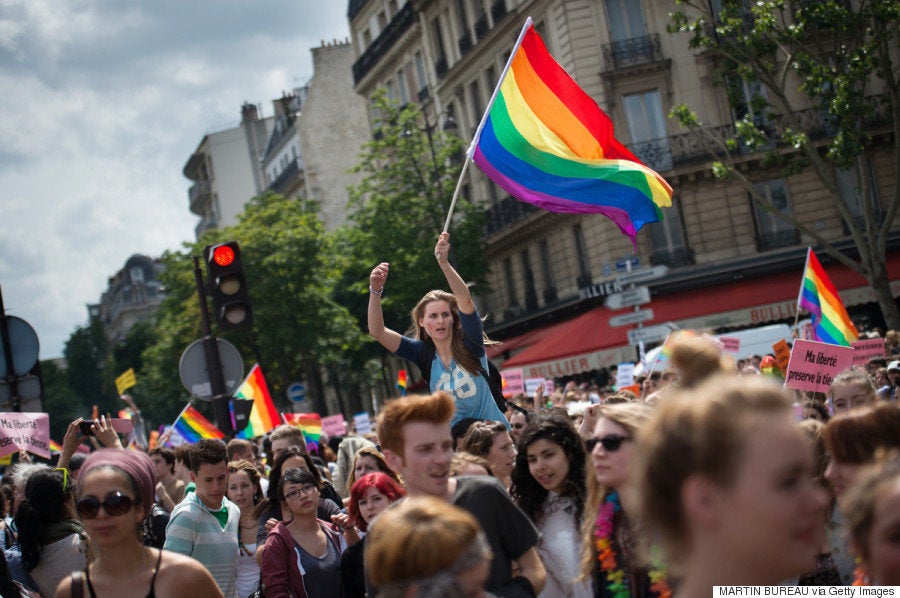 A woman holds the rainbow flag, colors of pride for the gay community during the homosexual, lesbian, bisexual and transgender (HLBT) visibility march, the Gay Pride, on June 29, 2013 in Paris, exactly one month to the day since France celebrated its first gay marriage. AFP PHOTO / MARTIN BUREAU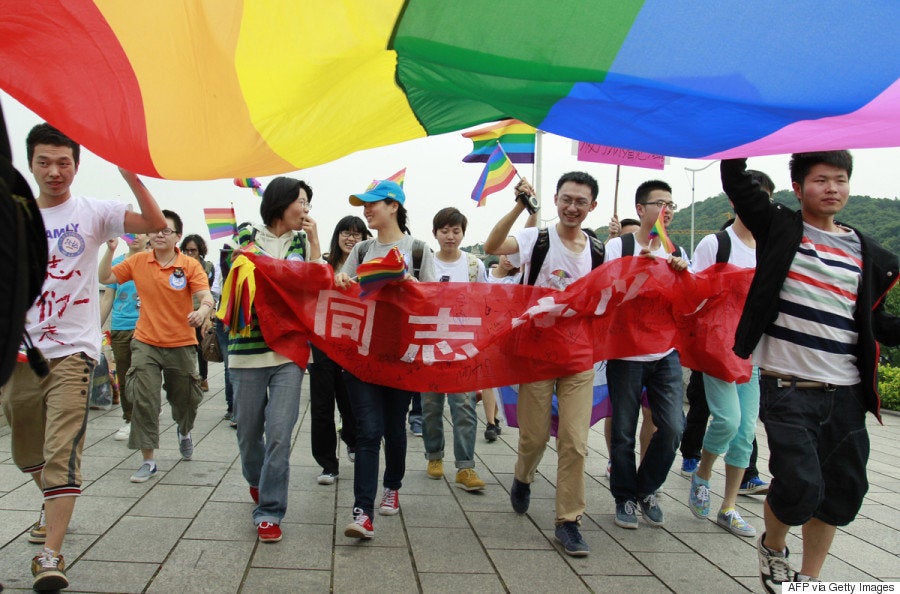 Youngsters hold a rainbow flag, a symbol for the homosexuals, as they march on the street during their anti-discrimination parade in Changsha, central China's Hunan province on May 17, 2013. About one hundred persons gathered to the anti-discrimination parade on the International Day Against Homophobia, appealing for understanding to homosexuals from the mass people. CHINA OUT AFP PHOTO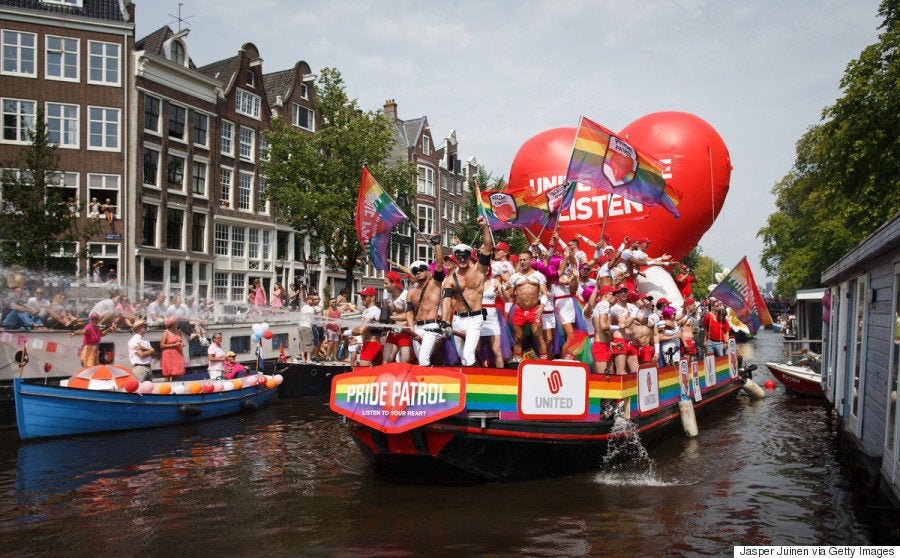 AMSTERDAM, NETHERLANDS - AUGUST 02: Revelers on a boat parade the Prinsengracht canal participating in the Amsterdam Canal Parade during Amsterdam Gay Pride on August 2, 2014 in Amsterdam, Netherlands. Over 500,000 people from all over the world attend the yearly Gay Pride and the Canal Parade where 79 boats with revelers in fancy costumes parade the Dutch capital from the Prinsengracht canal to the Amstel river. (Photo by Jasper Juinen/Getty Images)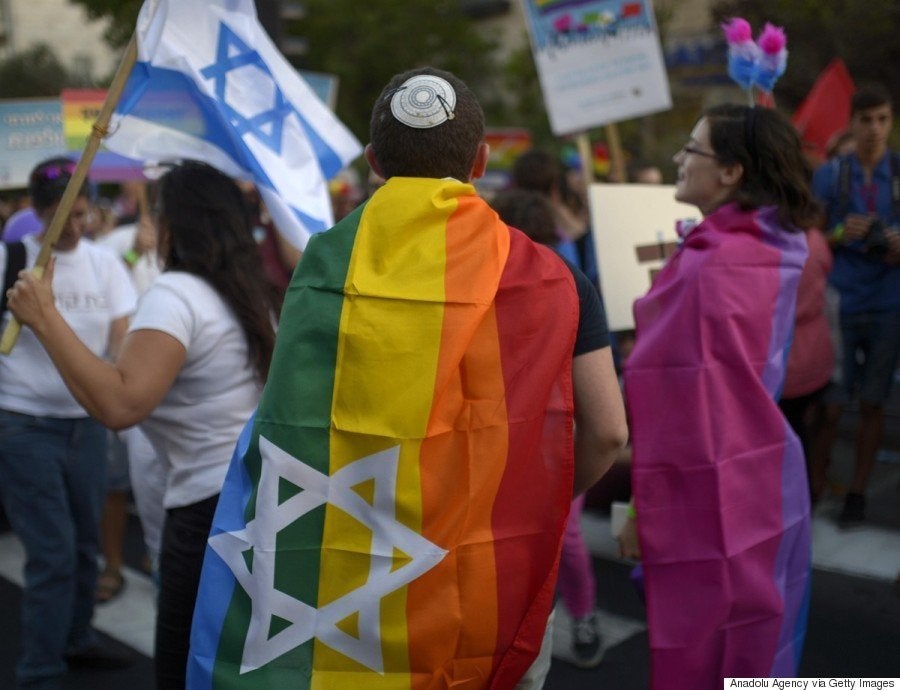 JERUSALEM, ISRAEL - SEPTEMBER 18: Participants wear rainbow flag take part in the annual Jerusalem Gay Pride Parade 2014 in Israel on September 18, 2014. Over 500 people attended the gay pride parade in Jerusalem and marched to Independence Park from Gan HaPa'amon (Bell Park).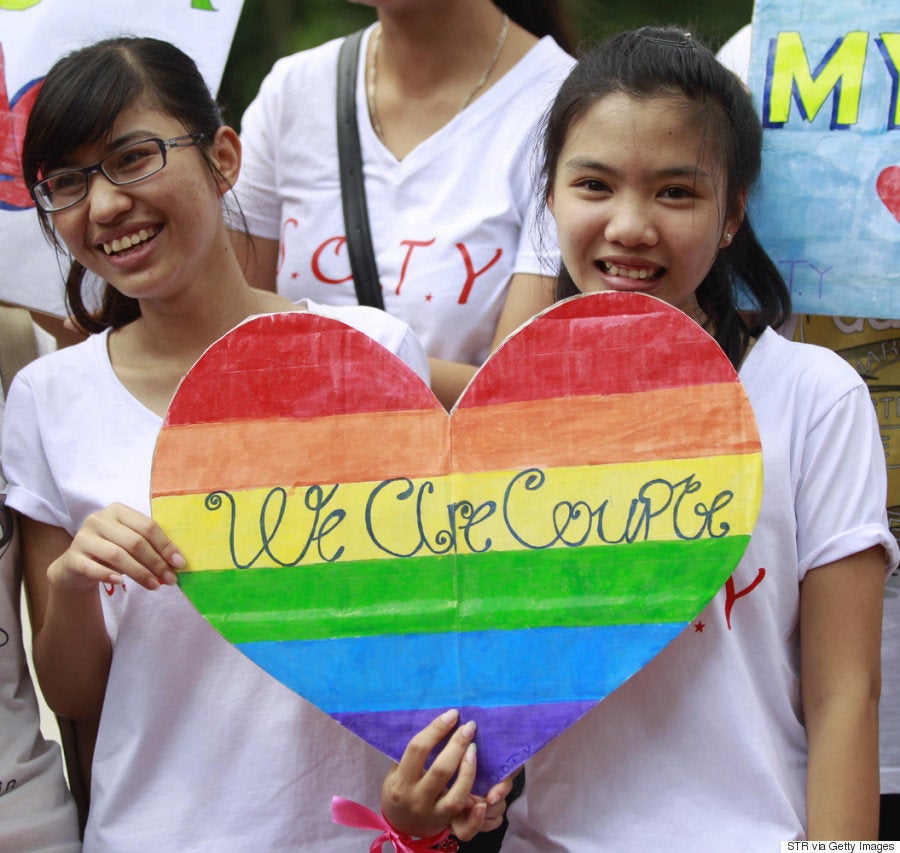 Participants pose with a rainbow colored heart shaped placard during a local annual gay pride parade in Hanoi on August 4, 2013. Some two hundred activists waving rainbow flags and carrying hand-painted banners biked in a colourful convoy through central Hanoi on Augusut 4 as part of the communist country's second gay pride parade. AFP PHOTO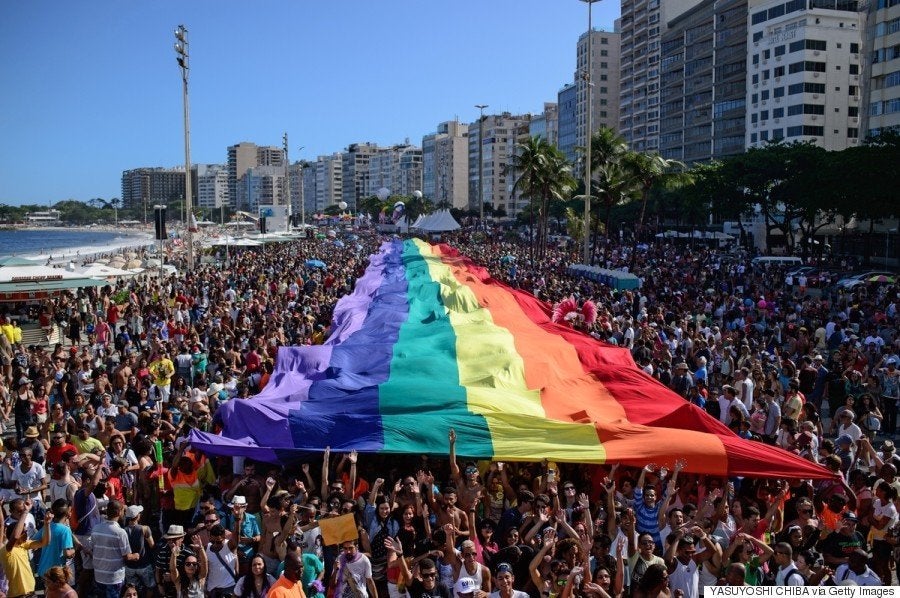 Revellers march with a giant rainbow flag during the annual Gay Pride Parade at Copacabana beach in Rio de Janeiro, Brazil, on November 16, 2014. AFP PHOTO / YASUYOSHI CHIBA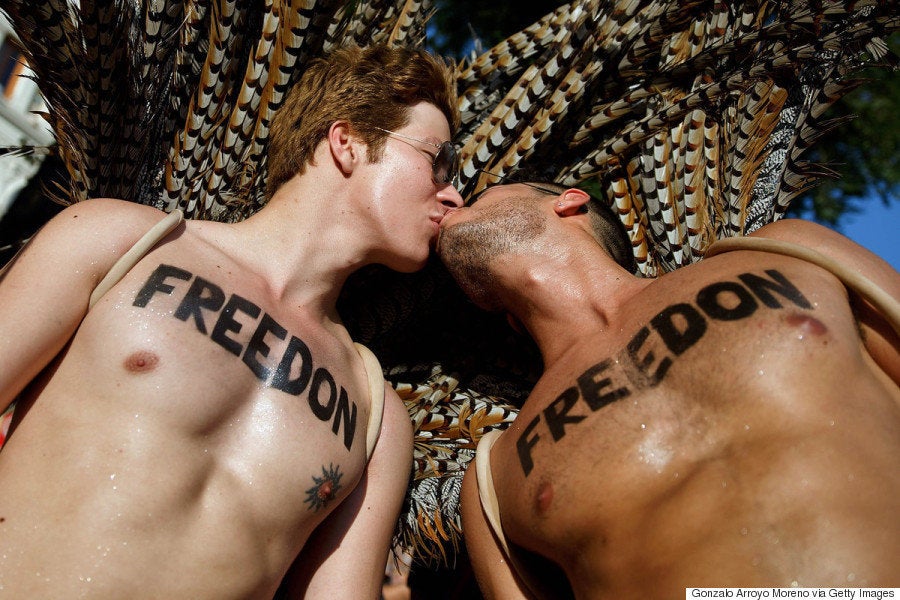 MADRID, SPAIN - JULY 06: Two gay men calling for freedom kiss during the Madrid Gay Pride Parade 2013 on July 6, 2013 in Madrid, Spain. According to a new Pew Research Center survey about homosexual acceptance around the world, Spain tops gay-friendly countries with an 88 percent acceptance rate.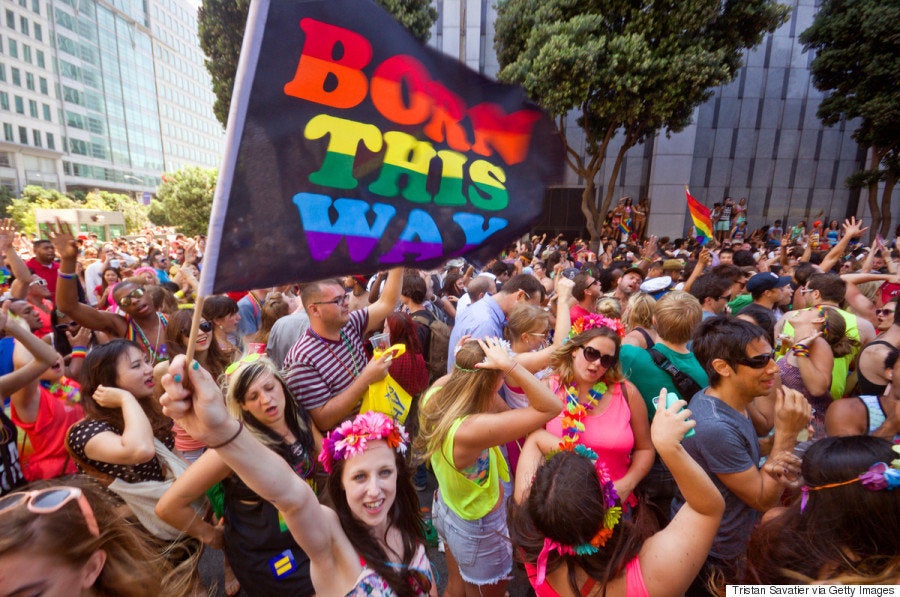 Woman waving a 'Born this Way' rainbow flag over the dancing crowd in front of the San Francisco Federal Building, at the Gay Pride Festival.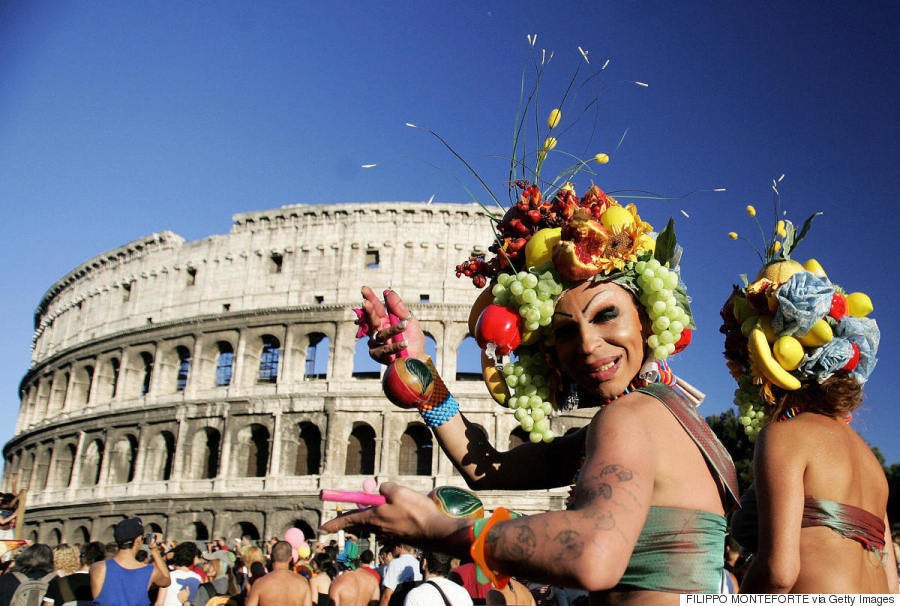 Rome, ITALY: Demonstrators pass the Colosseum during the gay pride parade in Rome 09 July 2005. AFP PHOTO / Filippo MONTEFORTE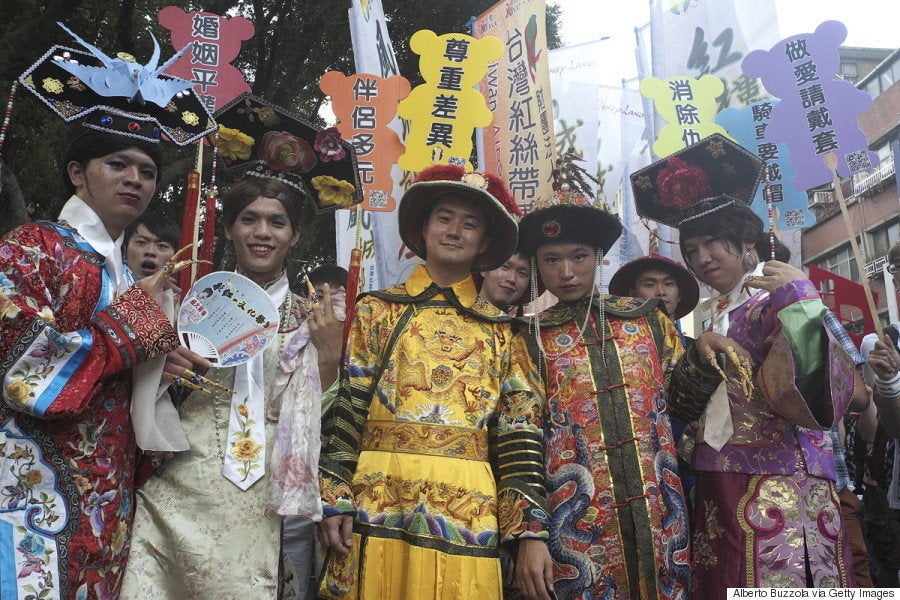 TAIPEI, TAIWAN - 2012/10/27: Dressed in fancy costumes reminiscent of ancient China, participants at the Taipei Gay Pride Parade celebrate in harmony and fun. (Photo by Alberto Buzzola/LightRocket via Getty Images)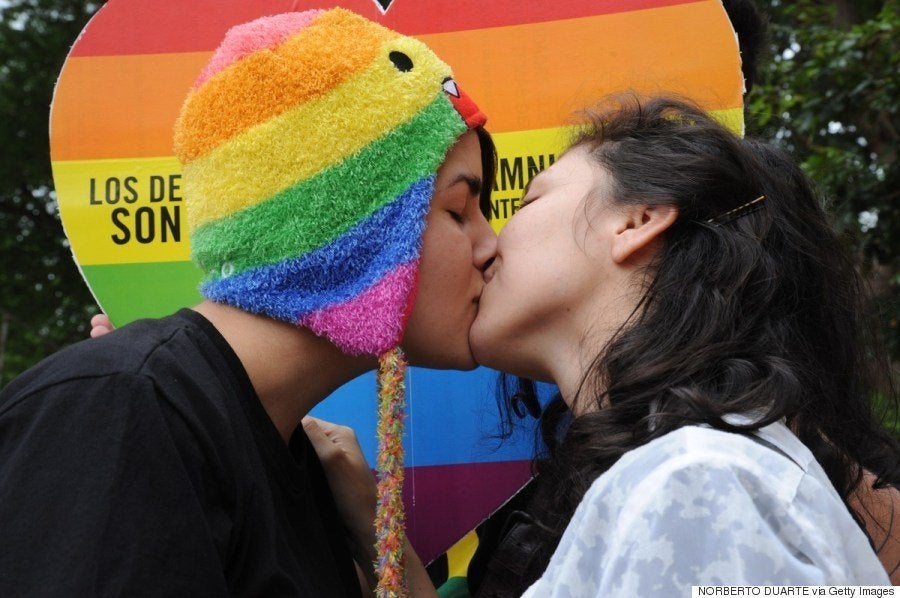 A gay couple kisses during a parade demanding equal rights for the LGBT community, on September 27, 2014 in Asuncion. AFP PHOTO Norberto Duarte
Locals take part in a gay parade, on May 9, 2015, in Havana. AFP PHOTO/ADALBERTO ROQUE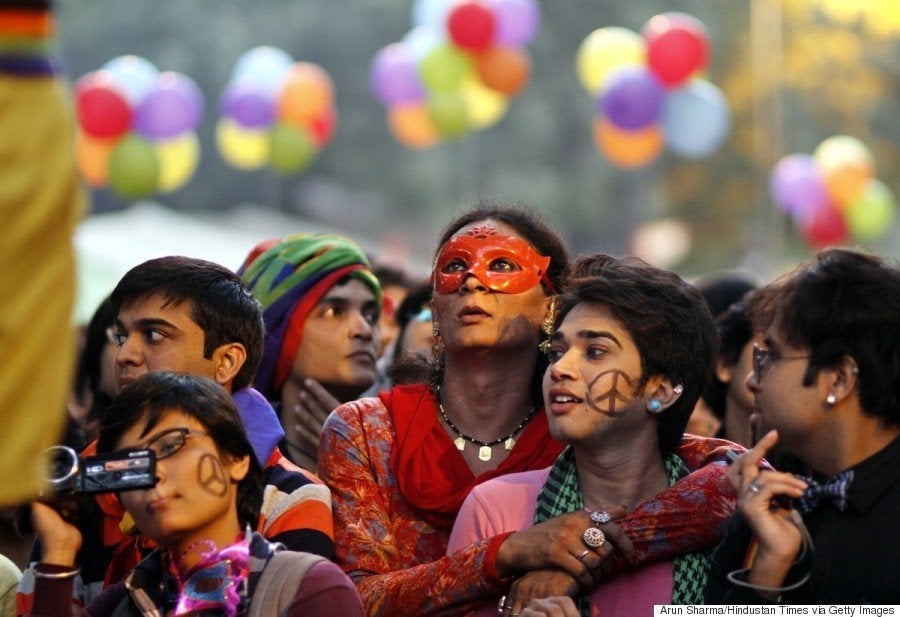 NEW DELHI, INDIA - NOVEMBER 30: Indian members and supporters of the Lesbian, Gay, Bisexual, and Transgender (LGBT) Community hold placards and dances during a Gay Pride Parade, on November 30, 2014 in New Delhi, India. Nearly a thousand gay rights activists marched to demand an end to discrimination against gays in India's deeply conservative society.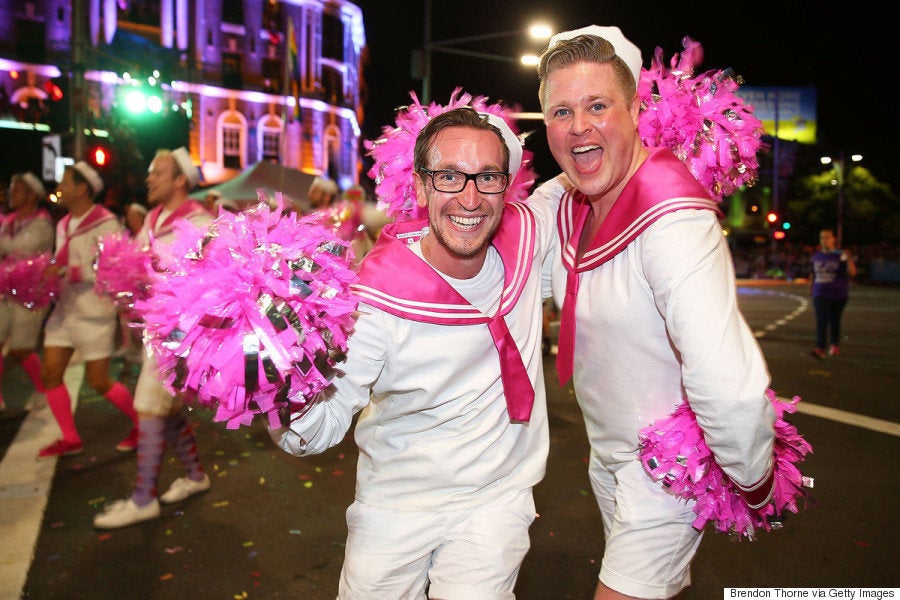 SYDNEY, AUSTRALIA - MARCH 01: Parade goers march during the 2014 Sydney Gay & Lesbian Mardi Gras Parade on March 1, 2014 in Sydney, Australia. The Sydney Mardi Gras parade began in 1978 as a march and commemoration of the 1969 Stonewall Riots of New York. It is an annual event promoting awareness of gay, lesbian, bisexual and transgender issues and themes.
この記事はハフポストUS版に掲載されたものを翻訳しました。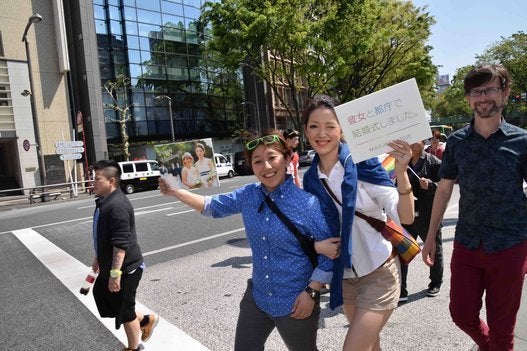 東京レインボープライド2015 画像集
関連記事